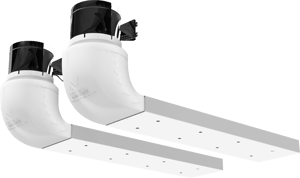 Vertical Air Solutions' patented In-Rack Airflow System provides canopies with uniform, top-down airflow while homogenizing the climate in a multi-layered rolling rack platform. The first purpose-built air circulation system of its kind, developed by growers for growers. Designed to deliver the airflow your plants need to thrive while saving valuable space in vertical farming applications.

The next generation of airflow systems by VAS has arrived. Every component has been fully redesigned and optimized to deliver the highest air velocities possible while maintaining consistent performance across varying row lengths. New materials and construction methods were carefully chosen to simplify installation and reduce costs without sacrificing quality. Highly modular with multiple configurations, this system was designed to meet the airflow needs of your crop.

Effective and consistent airflow is a must for any successful vertical farm. Fixed or oscillating fans provide uneven air movement and require complicated electrical sourcing. The VAS In-Rack Air Circulation System allows for consistent airflow, and its unobtrusive design disappears alongside the grow lights under the upper rack.
EC Inline Fans: Reduces power consumption and allows for granular adjustment of air velocity. EC fans may be eligible for Utility Rebates depending on region and provider.
Fan Mounting Options: System can be installed with the fans facing up or down. Mounting brackets allow for precise mounting height and adjustment of duct spacing.
Dual Lofted Plenum Design: Maximizes fan performance and reduces turbulence within the ducts.
Corrugated Polypropylene Ducts: Humidity-resistant and compatible with common cleaning chemicals but cost-effective enough to replace if desired.
Optimized Duct Dimensions: Greatly increases flow rates and duct velocities while minimizing turbulence and friction losses.
Pressure Balanced: Provides equal flow front-to-back and side-to-side at variable row lengths and improves exit angle.
Air Outlets: Improved circular hole pattern for maximum air dispersion, throw distance, and air velocity.
Thin Form Factor: Thinnest form factor on the market reducing overall system height and saving space.
Automated Control (Optional): Easily integrate fan controls into common automation platforms for external control of fan speeds.
Pop-Up Duct: Lightweight, ships flat, and pop-up design for easy installation.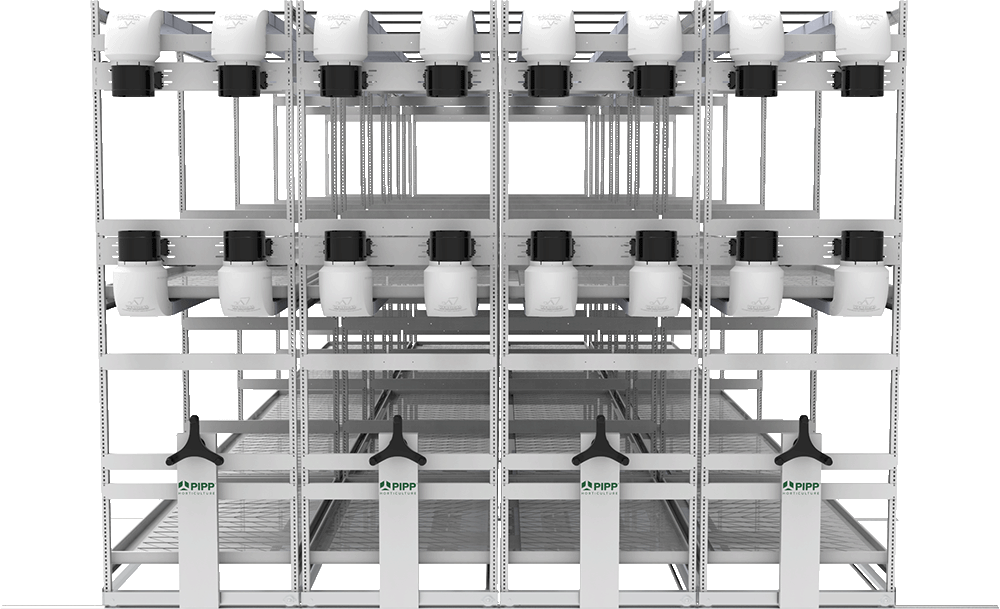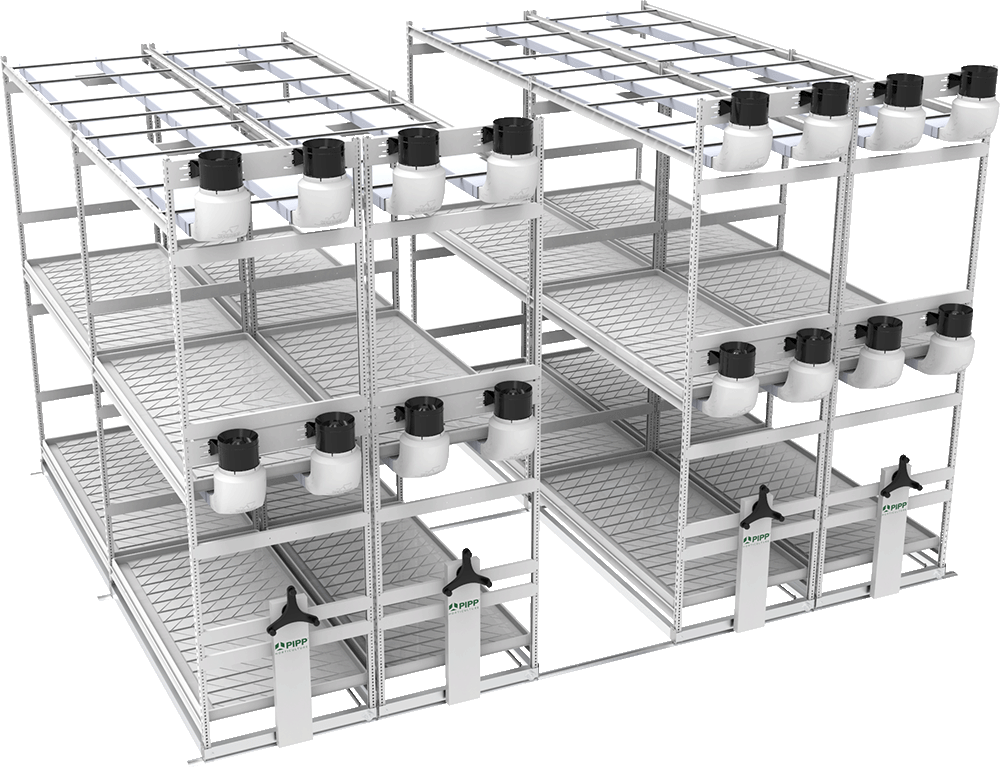 Increased Consistency: Mitigate microclimates and homogenize environmental conditions for consistent VPD and growth rates.
Enhanced Crop Health: Maintain even leaf temperatures and facilitate gas exchange to promote transpiration and photosynthetic rates.
Vertical Airflow: Harness the power of strategic vertical airflow to ensure uniform temperature, humidity, and CO2 throughout your grow space.
Space-Saving Design: Our compact and sleek system is engineered to fit seamlessly into most vertical racking systems with the thinnest form factor on the market while providing superior performance.
Increased Savings: Enjoy cost savings and sustainability with this energy-efficient system that maximizes air circulation while minimizing power consumption.
Customizable Control: Tailor the airflow to meet your plants' unique needs with adjustable fan speeds and a modular system design.
Dependability: Invented and field-proven by growers for growers. Designed with a quantitative, science-based approach validated by Computational Fluid Dynamics (CFD) and physical testing.